Eating local food from the place you're traveling to is a must! So when we visited Dubai we tried so many varieties of local food. Tbh! Everything just tasted better there. We loved everything we tried. Not gonna lie, we think they are the best for shawarmas! I said it! Any one who tries the shawarma there would definitely agree with us. We were so busy indulging in shawarmas and totally forgot about the traditional Mandi rice. And just a few days before we left we managed some time to try it out and many of our friends suggested ZamZam Mandi restaurant.
There are several branches of the restaurant spread across the UAE.We tried the one at Deira.
The ambience of the restaurant was lovely. They had traditional seating, where we could sit down on the floor with comfy cushions and they had the regular seats. We chose the chairs and tables because after all that walk across Dubai we just needed to give our knees some rest!
The food
For starters they served us soup, which was just broth but tasted amazing with all the flavours just infused so well. It was hot and filling and instantly gave us all that energy we drained strolling across the city.
Infused with various spices and loaded with aroma, the rice ,the mutton and chicken just teased our taste buds. We opted for the mutton and chicken Madbee rice. The rice and both our choices of meat came together served on a plate. The rice was garnished with fried onions, raisins and cashews and also had one boiled egg. We were also given a plate full of various lettuce and greens with onions, lime and pickled vegetables. We are usually not a big fan of mutton, but this was to die for. It was cooked so well to perfection and it was so soft and was easily falling off our hands. The mutton had the perfect amount of flavours and spice.
On the other hand the chicken was grilled and so tender. We just loved how it was marinated with a lot of spice and was just perfect with the rice.
Packed with flavours the basmati rice was cooked so well and had the perfect amount of everything! They will even refill the rice if you want more.
This was just the perfect dinner we had at Dubai. Just sad that we could only try it once.
For desserts, they served us luqaimat. These spherical shaped doughnuts (or much better than doughnuts!) was like cherry on top. This is a popular dessert in the Middle East. Deep fried pastries coated in syrup were just so crispy and sweet. It's so delicious that we lost track of how many we guzzled. Would definitely go to Dubai just for this! (the Karak chai too!) We were also served some tea to wash down all that food we gobbled up and was just the perfect way to end our dinner.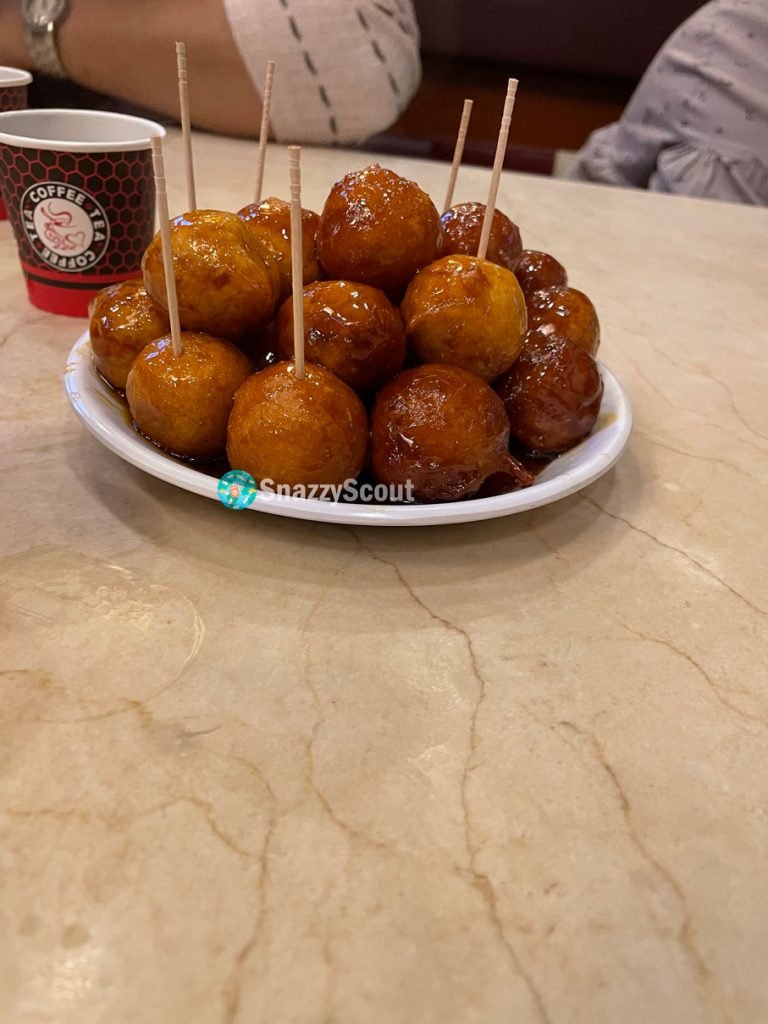 Loved the food here. Would definitely try again. Enjoyed the delicious food and loved the customer service. Keep it up!