Hardrock cafe is an American based company with cafes across various parts of the world. They are renowned for their rock and roll momentos. They have a unique style of collecting musical souvenirs from across the globe, from guitars to costumes used at concerts bought off auction to display them on the walls of the cafe. You can witness some memorabilia at the Maldives outlet too.
Located at Marina Crossroads, It's undoubtedly the most crowded and happening spot amongst the many restaurants located there.
The entrance of the cafe looks more like a souvenir shop with so many collections of tees, hoodies, and other accessories. The interior was so beautiful, it was well lit and rock music was playing. The live music started at 8.30 pm on the day we went. The staff here are so friendly and welcoming. All of them had big smiles on their faces throughout the evening.
The food
We tried the 'One night in Bangkok spicy shrimp' ($ 20). It was 15-20 batter fried shrimps served on a bed of creamy coleslaw topped with sesame seeds and green onions. We absolutely loved the dish. The shrimp tasted so good, and the marination was so good. There was a nice spice to it, and it went so well with the coleslaw and the generous amount of shrimp. 2-3 people can easily share this dish.  Even if you just go for drinks, we'd recommend you try this one out as its one mouth-watering dish we've ever had.
We also tried the 'All American sliders' ($ 22). Three mini burgers with crispy chicken, ham and cheddar cheese and onion rings.  It was basic and lacked spices. We'd recommend ordering only if you go as a group of 3 or more. It was filling for a starter.
For mains, we had the 'BBQ pulled Lamb Sandwich' ($ 20). It was technically a burger.  It was served with pulled lamb, coleslaw, BBQ sauces, pickles and ranch beans. The coleslaw was creamy and went so well with the sandwich and the ranch beans which had a very good spice and was cooked so well.  The bun was soft and fluffy. The pulled lamb was soft and cooked well but it had a very sweet taste. That one thing made the dish unappetizing to us.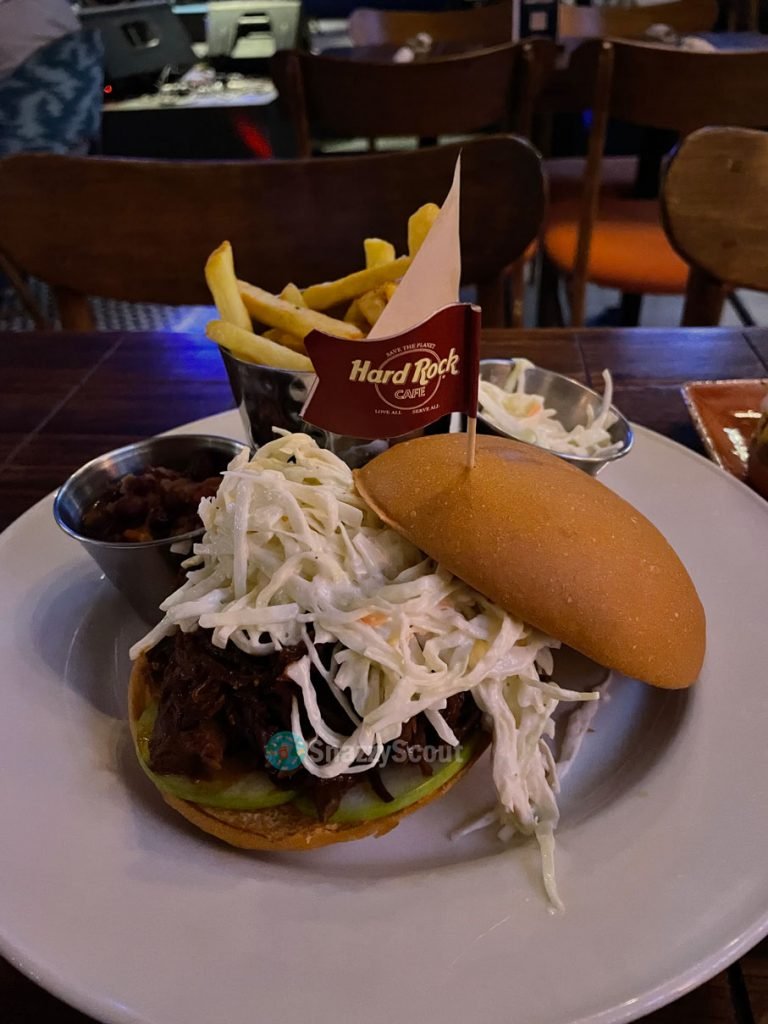 To refresh ourselves from the heat at crossroads, we ordered a 'Mango-Berry Cooler' ($ 8). It was perfect. Had just the right combination of sour  and sweet. It was a mixture of pineapple juice, orange juice, mangoes and strawberries. It was very refreshing and we absolutely loved it. They also have a wide collection of alcoholic beverages too to choose from.
It costed us a whopping $88 for just 2 of us. That's what you can expect from an international franchise I suppose. Anyway, we just wanted to give a heads up to our readers. It was indeed a memorable night. I'm sure you will enjoy the music and the vibe there. We totally recommend it if you want an escape from Male city.