Many of us love traveling and Singapore must have been the first tick off your bucket list. Singapore, one of the highly developed countries in terms of economy marking the strongest passport of all across the world.
Our Singapore was as short as 5 days and I lived every momentum. Extreme happiness made me digest numerous information prior to my visit. This journey to the wonderland is accompanied by my beautiful wife and we had so much fun. This led me to share my unforgettable experience including a few useful tips and I hope this will contribute to another in need.
THE MASTER PLAN
Indication of "$" will refer to Singapore Dollars (SGD) and I'm not enfolding my views on air-fairs. Hence, buckle up and get your best cheapest choice to start the journey. First and foremost, I downloaded the GRAB application prior to my arrival, so I can book a TAXI soon as I land.
Things to Pack – Keep it simple. Keep it compact. The lesser you pack, the easier to move.
Currency Conversion Ratios – Most users loose it here, I beg you do not. Remember, you've set your mind to travel for leisure. Doing a budget plan is accepted, but never ever compare currency to your home country. This will neither get you anything nor make you happy.
Download the MRT/LRT Map – Trust me, this is like the GOLDEN TICKET to your HEAVEN. I relied on this my entire journey and planned some of my sight-seeing with this. Train map indicates various colors to locations and transits. Worry not, one train travel will help you figure out the whole concept.
GRAB App – As I mentioned earlier, keeping this ready will help you save time. Its easy as subscribing to Uber App. Your ride may be a BMW, Benz at times on a normal booking, don't PANIC, it's normal
Mobile SIM – We need to stay connected on the move, post a selfie, pose at the UNIVERSAL studios isn't it? Singapore's mobile plans are generous and cheaper. You'll get 100GB for 7 days as an entree pack on both Singtel and StarHub, who are the most popular networks. Difference between both the pack is just $3. I got Singtel as they tend to have a good coverage all over, including the underground MRTs while StarHub struggles to connected. This is needed more when you take a long MRT ride sitting alone to kill some time. Singtel is now bundling EzLink (travel ticket pass) with its tourist pack at $18 with a pre-stored value of $3 for MRT/LRT.
Travel Pass – Used less TAXIs or not at all, unless its inevitable. My TAXI ride was limited to 3, Airport pick-up and drop, then a late night travel where I couldn't get an MRT. Using more of Public transportation is the wisest and one of THE BEST SYSTEM you'll ever see. You'll come across Tourist Pass and EzLink pass for public transport rides. Difference between both the passes are its deposit (one is refundable and the other is not), and some ride difference. As for deposits, Tourist Pass will let you do a $10 refundable deposit while the EzLink will not let you get the refundable amount of $5. If you're a short time traveler (1 -3 days) and planned to take a lot of rides, I guess the Tourist Pass make sense. Because, you get unlimited rides on Buses, MRT/LRT for $10/day on Tourist Pass. On EzLink you'll have to pay $12 and you get $7 while 5$ will be non-refundable. On 7-Eleven shops, its $10 with $5 to use and 5$ non-refundable. Trust me, I used the EzLink card for 5 days and I have spent $32 for my entire journey between MRT, LRT and Buses. So choose wisely.
ACCOMMODATION – I am a lucky chap to have some relatives living in the Singapore and I'm sure some of you do too. So, accommodation was not a barrier to my journey. I suggest you to refer to Hotel, Agoda or Booking for cheaper hotels, and might as well call the respective hotels for direct booking, most cases they are cheaper.
FOOD – You will find all the famous brands but I recommend to try "Hawker Streets", where street food is served. They are cheaper and better. You can get a good meal between $4 – $10, easily. These places are mostly attached to MRT stations but not all stations will have them.
TRAVEL PLAN – DAY WISE (THE PLANNING)
Now we are set and its time to plan the day. It was my first time and I have missed some places like the ArtScience Museum, Cable Car, Botanic Garden, Pulau Semakau (the trash island)… etc. Some places I intentionally ignored due to various reasons.
DAY 1 – Everyone visit Singapore for leisure and never miss to say "CHEESE" in front the UNIVERSAL globe. We reached around 4am and had a quick nap until 7am and we left to SENTOSA around 7.30am. Since its our first visit, we made a mistake of buying FUN PASSES that didn't cover UNIVERSAL, so do ensure to do a 360-degree check and inquire to ensure you got what you need. To utilize our FUN PASS, we started exploring the brochure given and used each of the ticket slots wisely. Now, I'm so sure 9am – 6pm (the time we spent) isn't enough to complete your complete SENTOSA journey but you can always come back. I had to leave around 6pm as my calculation was to reach BAY FRONT station to enjoy the SUPER-TREE GROVE musically-synchronized light show. This show runs twice a day at 7.45pm and 8.45pm, and I wanted to catch 7.45pm show. Also to the WATER SHOW at the BAY FRONT, MARINA BAY which starts at 9pm. Tt takes at least 15 – 25 mins walk from the SUPER-TREE GROVE show to the WATER SHOW. Post the WATER SHOW, I sat there with my wife for some time looking at the amazing skyline with tall buildings, lake by the side, it was MESMERIZING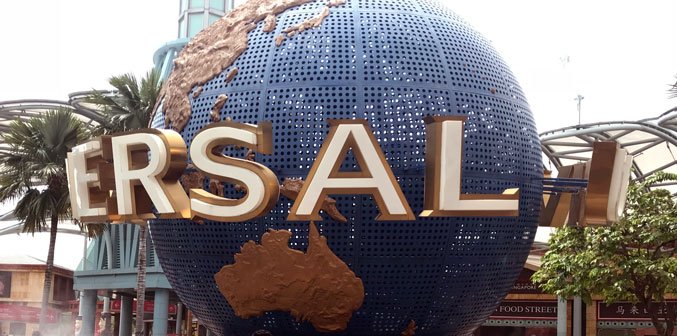 DAY 2 – My journey was during Ramadan time, so its the EID festival day, and nothing much happened in the first half. My cousin took us to ORCHARD STREET, the place where you'll spend money and realize where the hell have they gone. This is the first time ever in my life I realized that going with your wife on shopping kills half of your day. This is not what I had in mind to spend my second day, but yes, I must give time to my family too. End of the day, we had fun watching a movie at one of biggest movie theater.
DAY 3 – We headed to GARDENS BY THE BAY, spent time envying the creativity that the Singaporeans put in. We didn't want to spend time looking at flowers, because we have seen enough, but there's no choice for one, so we had to get the full ticket at $28 per person (THIS COVERS BOTH FLOWER DOMAIN AND CLOUD FOREST). I didn't enjoy flower dome much, but my wife did. Flower Dome is updated with themes and the time we visited it was TULIP THEME. The CLOUD FOREST and its architecture is a killer. Its like the JOURNEY TO THE CENTER OF THE EARTH. There's a lot of science and nature work beyond. There are bunch of attractions nearby to see, so make time for that as well. The GARDENS BY THE BAY will consume 2/3 of your day. To call it a day, you can visit the Marina bay to sit at the lake and enjoy or tour around Merlion… etc.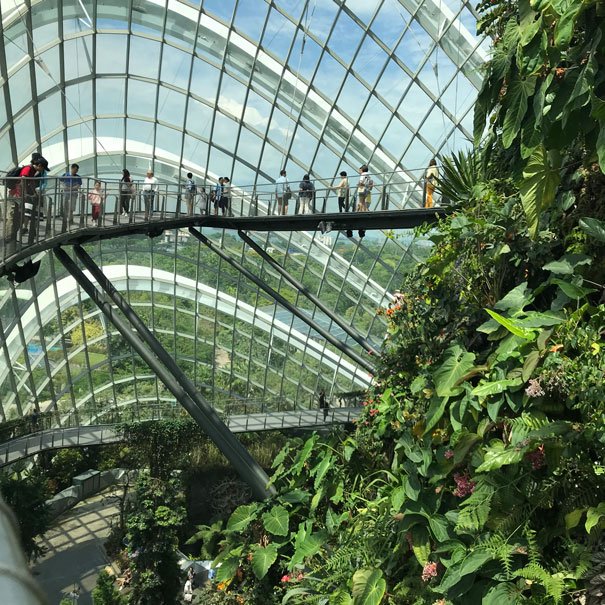 DAY 4 – Thinking that I've done visiting places, we went out with my cousin to see Little India and this place is unbelievable. For a second, I thought I was in India. The place is a wonderland and they have maintained it well. Since we love Asian/Indian food, we crashed in to a shop and ordered some short-eats. And the "Dosa" types I saw made me fall in another shock. When you are around in Little India, do not miss to pay a visit to Musthafa center where you can buy anything and everything. This place is crazy huge connecting the underground and upper floors between streets. Then again, we visited some other shopping places and then returned home. As a final activity, my cousin took us to a place for dinner and introduced us "THE MEEGORENG", Singapore's famous dish and it was delicious. Do crash in somewhere can ask for it.
DAY 5 – Was more of a travel for shopping and to Marina Bay to see the beauty of the city and enjoyed a bit staying there for some time. And when I asked my cousin that I wanted to go somewhere happening since its boring, he told us to go to CLARKE QUAY. CLARKE QUAY will reveal how a night party life of Singapore is. Don't take your children if you have any as it's not the best place for them to see. However, if you're a couple and matured enough to understand what's happening around (Spoiler alert to Asian people who are bound to culture…. Its not wrong to see how a developed culture looks like), you'll enjoy sitting by the lake, having/sipping a beer and falling into a good conversation as time passes by.
This was my whole trip where three days were basically very productive and useful. The rest were not planned as I knew the so called "SHOPPING TIME" will kill two days. Hope this helps!