ISSO, a Sri Lankan restaurant start-up started 3 years ago with its humble beginnings in Sri Lanka expanding operations to 3 outlets. With a massive fan base and success, ISSO made its debut in Male' city, making its soft launch on 8th November 2019.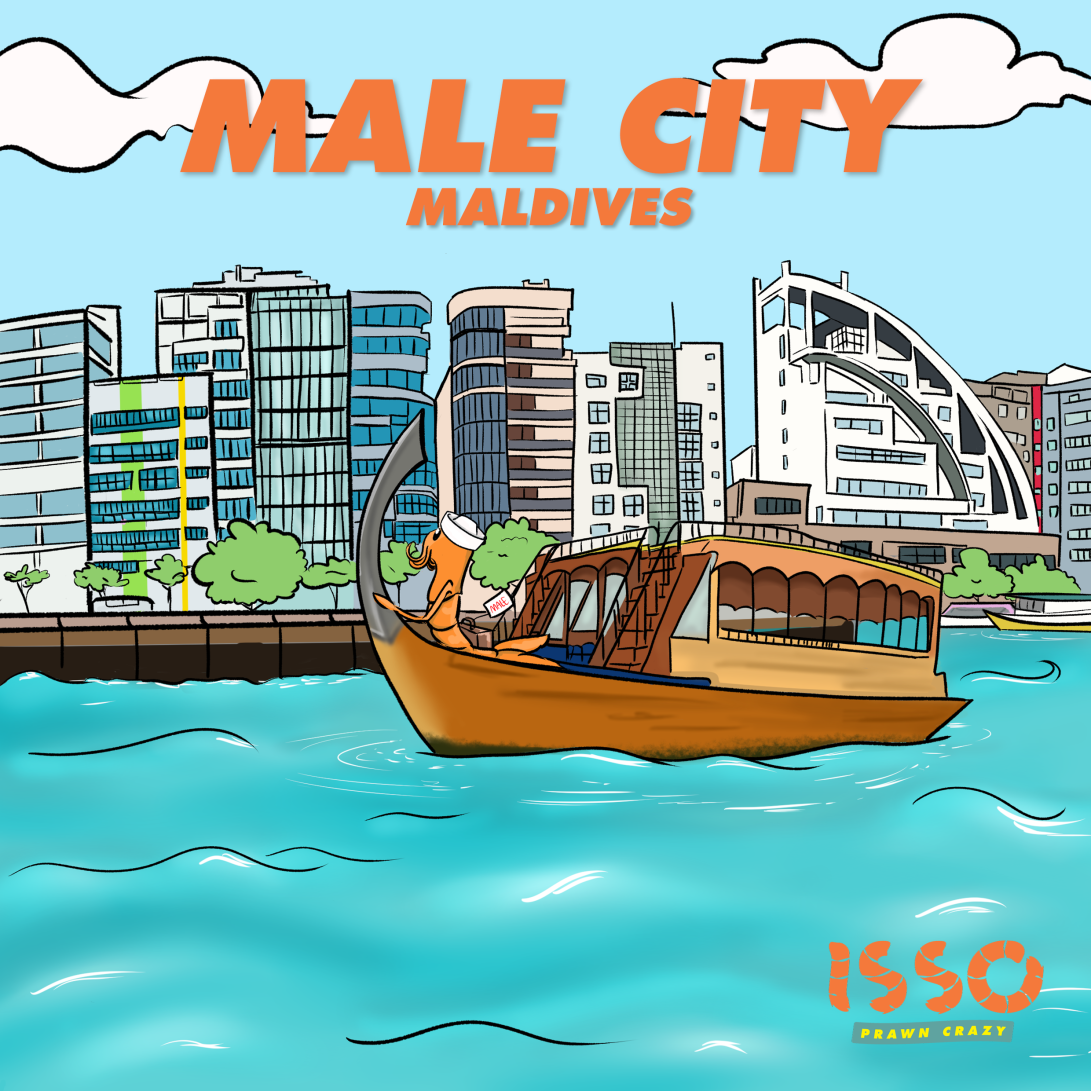 Even-though ISSO doesn't require a translation as the whole unique art-work with Prawns will reveal the image. ISSO may be new to the Maldives market, but their presence in Sri Lanka made quite a good fan base of sea-food lovers.
To try the authentic ISSO dish with some real Sri Lankan cuisine, we made a visit last week.
ISSO for newbies
As for starters, ISSO takes its orders within simple 3 steps;
Pick Your Base (basically the prawn/shrimp size)
Type/Style of the Dish (Local, Western… etc.)
Selection of Carb (Bread, Rice… etc.)
This 3 step process is what makes ISSO stand out from the rest of the crowd. Yes, I have been complaining about the choices we have in Male' city when it comes to sea-food. Worry not! We're in a treat now. Your price will be depending on the base you pick.
Is it expensive you may ask? Well, for a fact what's not expensive in the Maldives as there's no such seafood product other than TUNA (or maybe I'm wrong). Prawns and Crabs are expensive in general and there are no unique restaurants serving them as standalone menus.

Ambiance
A very cozy place located in a corner of Faashanaa Kilege Magu in Male' is a very easy location to find. The interior is based on an orange theme and is very pleasant.
A perfect place to satisfy your seafood cravings.
The food
We kick-started off by choosing the type of prawn, we opted for the shrimp which was MVR 169 itself (you can imagine what the regular and jumbo prawns would have costed). we chose their Lankan favorite. For step two which is prawns fried in hot butter and came with three kinds of pepper, onions, and capsicum. It was all adequately spiced. And to balance that it came with coleslaw which went really well with the shrimp. For step 3, for the carbs, we selected the roast paan, because we were craving for some authentic Srilankan "kade paan". It was really crispy and the buttery flavor just teased our taste buds. And to add to that we requested for some pol sambal, even though it doesn't come with this dish they were nice enough to give it..but roast paan and pol sambal is a deadly combo which should be included in the dish noh?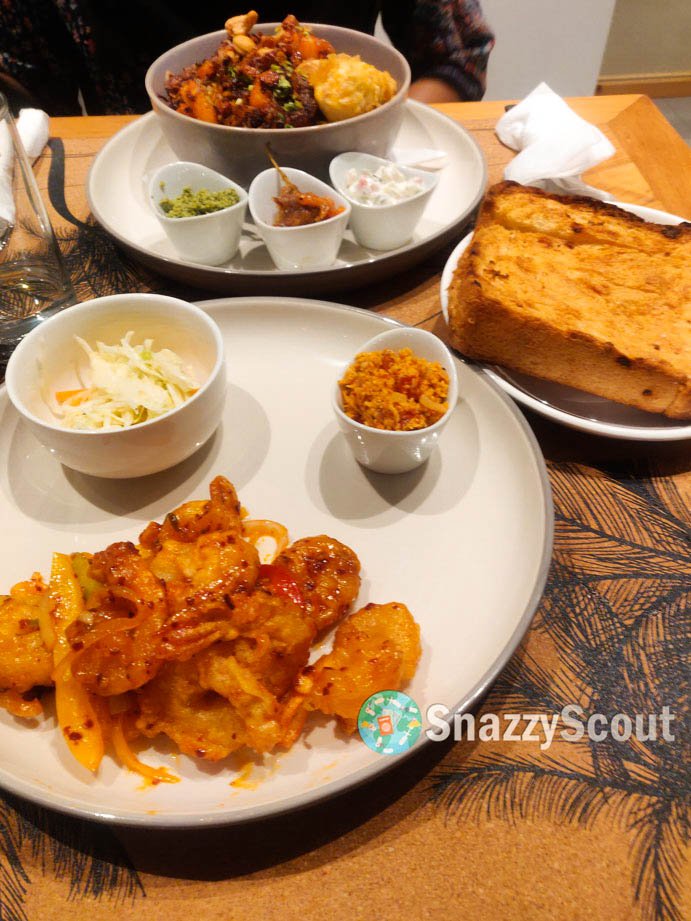 The second dish we went for was their ISSO biriyani which cost MVR 199. It was an ample portion that came in an assortment of white basmati rice, a thick and flavorful gravy, four big prawns, a fried egg and condiments, we enjoyed every bit of it.
The rice looked really rich and was full of flavor. It had the right amount of spices with fried cashews and raisins (which I personally don't enjoy). We got raita, Malay pickle and mint chutney for our condiments., which went really well with the biriyani.
We didn't try any drinks or desserts as we were really full after the mains.
Closure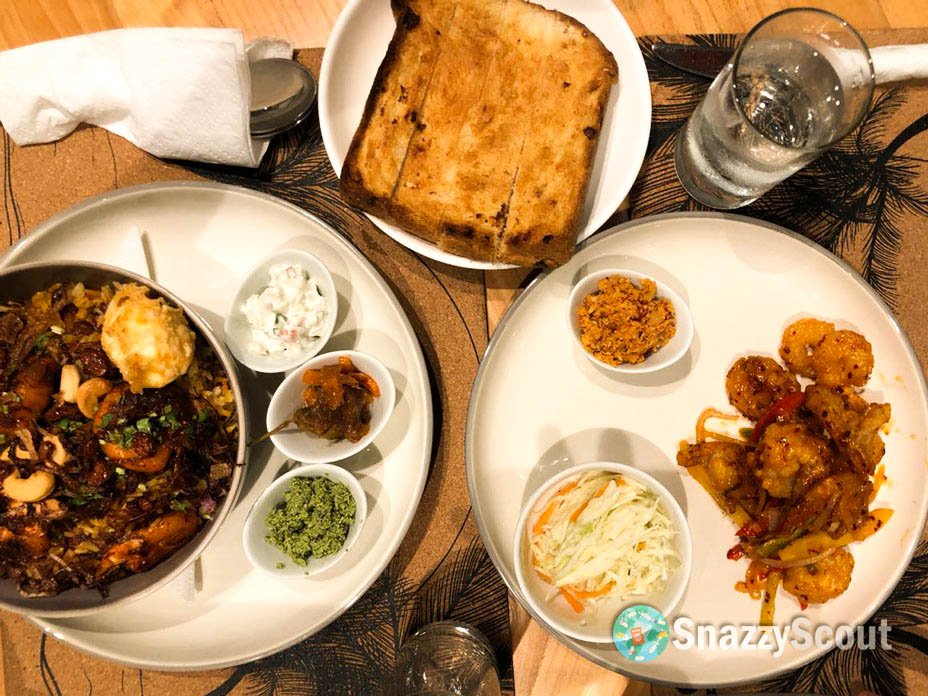 Overall we loved everything at ISSO, the food came in generous portions and was full of flavor and spices and we loved every bit of it. I would definitely go again to try the other dishes and drinks on the menu.
ISSO Maldives is your best place to quench your sea-food, prawn cravings!