Opened in 2018, "The Pickles Restaurant" is one of the developing restaurants engaged in providing dine-in, takeaway, delivery, and Catering Services to the customers in the Maldives.
The Place
Pickles Cheesy mixed-meaty Shawarma has always been our favorite. Actually it's the best Shawarma you can taste in Male city. We have it delivered home mostly, so we can indulge in the goodness in our comfort zone. But ever since the lock-down was lifted we wanted to try something new and start experimenting again. So by adhering to safety guidelines and precautions we decided to go to the Pickles restaurant in Male. Even-though we have devoured their goodness multiple times last week was the first time we visited the place.
The Food
We tried three dishes. We tried the Hyderabadi Chicken biriyani which came along with a quarter chicken, boiled egg, and some raita. The biriyani was loaded with cashews and raisins and the quarter chicken was good. But sadly, the Biriyani was not up to our expectations. It lacked the spices and the aroma of biriyani.
Then, we had one of their specials which was devilled prawns with herb rice. The presentation of the dish was very impressive. The devilled prawn came on a small cooker which was roasting the prawns while it was being brought to the table. The prawns were lit and the herb rice was full of flavor. We absolutely loved this divine dish.
Finally, last but not the least; our all-time favorite the Cheesy mixed meaty shawarma. The best part about the shawarma is that the 4 pita bread, the meat, mushrooms, the sauces, mayo, and fries come separately and we can assemble it the way we like. Their meat portion is so generous that even after assembling our shawarma we will be left with some meat. This is a portion for 2. And it's so filling. Nevertheless, this is our all-time favorite and they never fail to compromise the standards.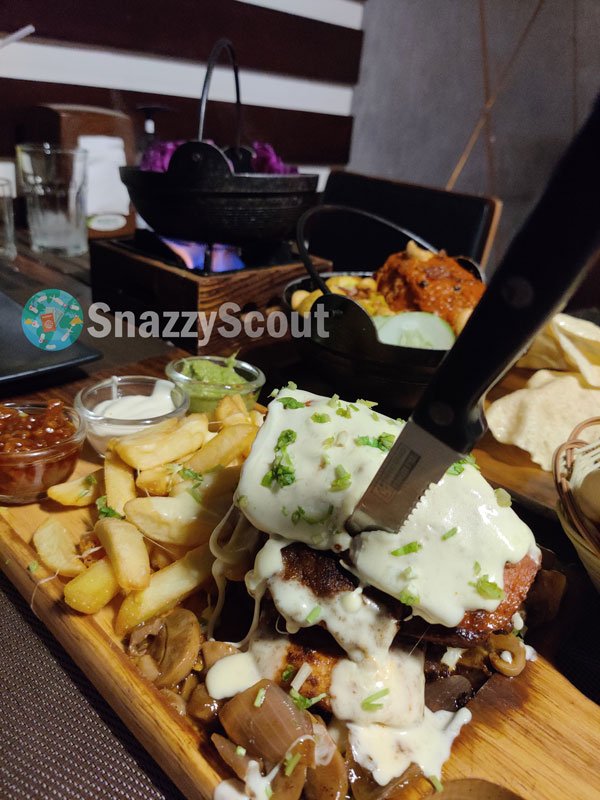 For beverage, we tried a mixed fruit juice but not sure what fruits were mixed because all we could taste were oranges and pineapple. So yeah.. Not too bad and not so good.
Overall, our experience was really good. Had a great time.
The Location
---
Facebook Page of Pickles Restaurant: https://web.facebook.com/ThePicklesRestaurant