We have tried Manhattan fish market in Sri Lanka and in the Maldives. Being an International franchise restaurant their menu, food and beverages are exactly the same in both the countries. Usually franchised restaurants will add something new to the menu with a local variation or local twist. But not here ! And I think it's good! We don't want to eat a biriyani Or Nasi-goreng everywhere.
So these pictures were taken at the Manhattan fish market in Sri Lanka. But like I mentioned earlier the food tastes exactly the same in both the countries.
The only factor I consider before choosing my dish would be the chilli sign depicted alongside the dish on the menu. If it does then the dish will be spicy. So, being a spice lover I would definitely choose one which is spicy. And so we got my all time favourite at Manhattan which is the Spicy baked fish.
The Spicy baked fish is a baked fillet marinated with spicy sauce served with garlic herb rice and some steamed vegetables. I like the simplicity of this dish. The fish was cooked so well and the sauce went really well with the rice. Oh! I really enjoyed this dish and it's my favourite in Manhattan.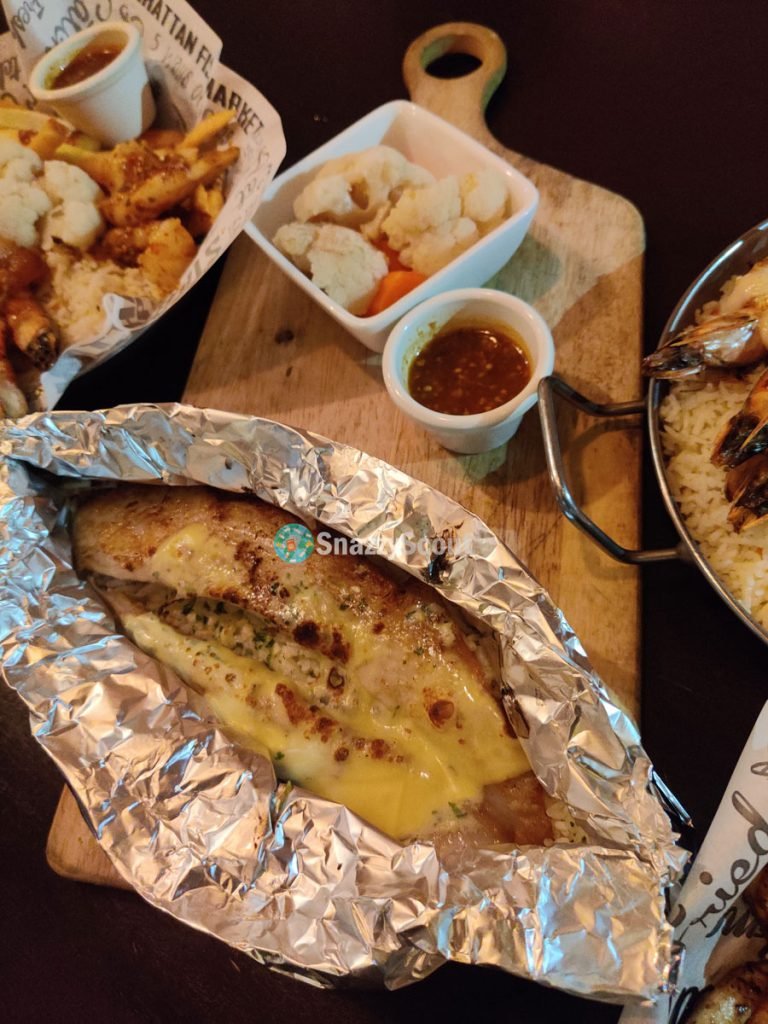 The small flame is the legendary variety of seafood. It came with flame grilled prawns and dory fillet served with herb rice, steamed veggies and French fries. We felt that the fish and the prawn could have been seasoned a bit more. The sauce also lacked something which we could not figure out. The fries were crispy and had the perfect amount of salt. 
Next we had The Small grill which had all the seafood grilled. On the plate were tiger prawns, Calamari and dory fillet. This too was served with garlic herb rice, veggies and fries. We felt the same with this dish. The seafood  was bland and could have been marinated with some amount of spice and salt to whet our appetite.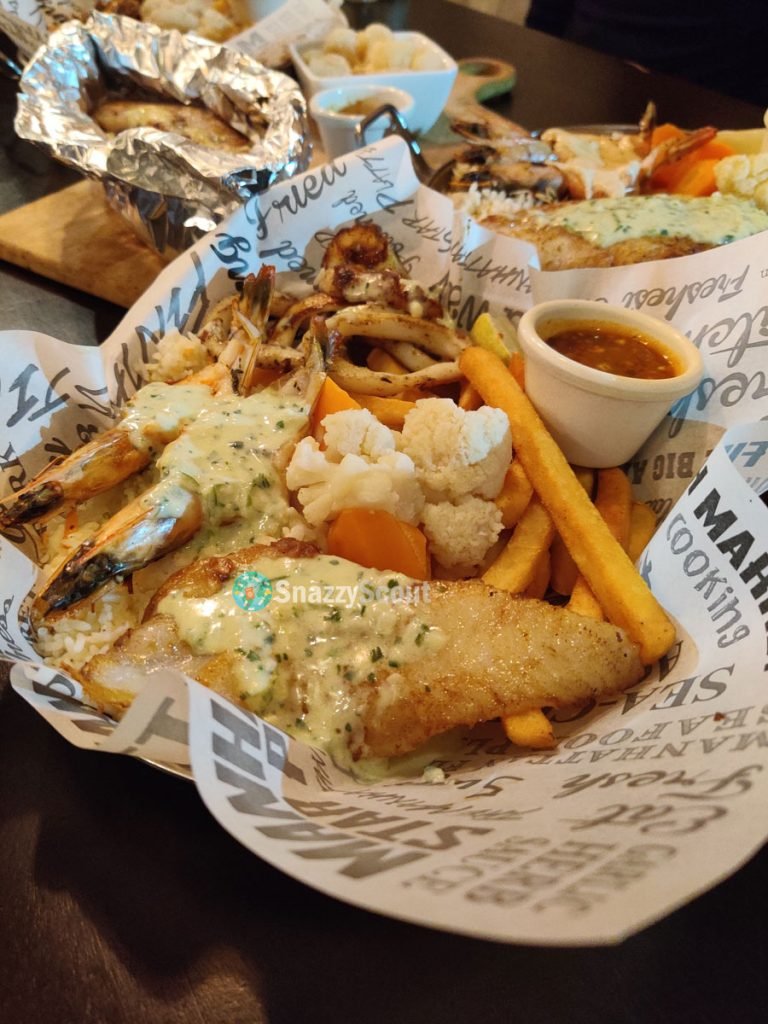 The beverages were all very refreshing and appealing.
Brooklyn Sunset – This is my personal favourite. It had a perfect blend of  mango and a touch of strawberry. It has the perfect amount of sweetness and that slight tangy taste was what won our hearts! Would recommend  it to anyone. 
Cala-Cala  – The best thirst quencher. Had a lemon sizzle to it which we absolutely loved! Very refreshing indeed!
The Melon Breeze – Perfect beverage for a hot day. We could not get the melon flavour in it but the sweetness truly energizes us and the strawberry syrup balanced out the whole drink.
The Gummy bear – The greenish-blue colour was tantalizing. A sizzling drink to appease our taste buds. The lime touch was on point! We loved it.
Loved all the beverages and enjoyed the meal. Would recommend to any seafood lover!