Mamak restaurant is located in the centre of Hulhumale, right opposite the Hulhumale hospital. Situated on the first floor it's a small and cozy place. Even though they had many Malaysian specialty foods, the chef said it was a multi-cuisine restaurant. It had a very subtle and calm ambience. We loved the interior of the place and it was also very well lit.
We went there for an early dinner and directly ordered mains without filling up ourselves with starters. The Chilli kothu combo (MVR 100) was an interesting dish. It was not your regular kothu, the paratta in the kottu was crispy. It had a nice texture. The bright red hue of the dish set out the vibe that it was going to be spicy. It was spicy as expected but to our surprise it also had a slightly sweet taste as well. It was a very new experience for us. It came along with a fried egg and a bottle of sprite. We absolutely loved this dish and would recommend it.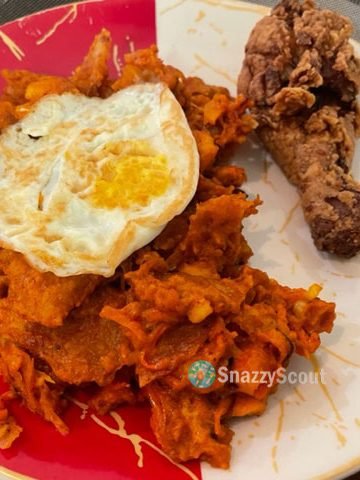 We also tried the Single Roti Set Combo.(MVR 100) This was a paratta set for a single person which was served with side dishes, drink and dessert. So we felt the combo was a great deal!
The set consisted of 2 Parattas,Dhal curry,Chicken curry,Fried chicken, Salad, Bandung and gulab jamun for dessert.
The parattas were really good. It was flaky and crispy. You know it's a good paratta when you can see the layers removing easily. The paratta station is right outside the restaurant. You can see the chef preparing the parattas fresh right in front of you. The dhal curry was a bit of a disappointment, it had an overpowering herb taste which I was unsure of and made the dish a bit boring. The chicken curry was okay, the gravy could have been more flavorful. The salad was fresh and tasted good. There were a few chunks of fried chicken that went well with the parattas.
Bandung is like rose milk. Rose syrup infused with milk and sugar and blended. It was chilling and sweet and the right beverage to go along with the meal.
For dessert, we were served gulab jamun. It was a perfect size for a person. It was soft and fluffy and we absolutely loved it.
Overall, we loved the whole ambiance at Mamak and enjoyed the food too. Do let us know what is your favourite at Mamak!