A few days before the lock-down was imposed in Sri Lanka we went to Chili's located at One-Galle Face mall for lunch. We really loved the vibe in the restaurant. The Tex-Mex cuisine is something new to Colombo and we had to explore it.
They have a variety of dishes on their menu from the mainstream burgers, rice bowls to some unique fajitas and burritos.
So, we'll be listing down some of the meals we tried at Chili's. 🌶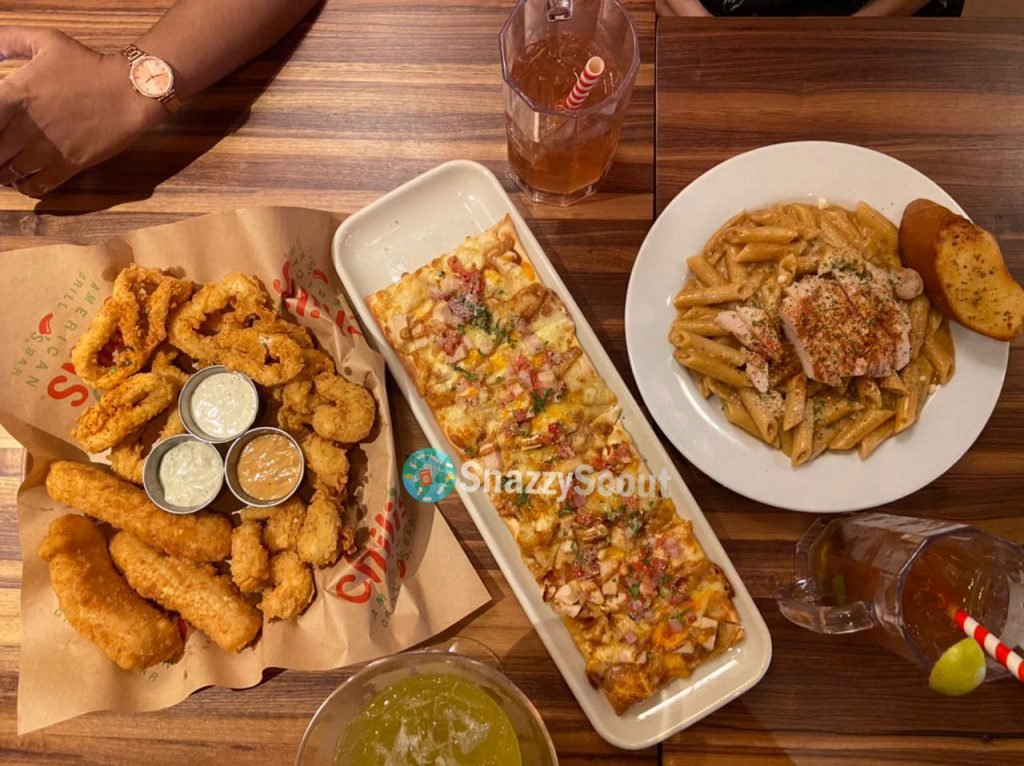 1. Seafood platter
A price worthy dish that can be shared with 3-4 people. It consisted of batter fried Prawns, Cuttlefish and huge pieces of fish. Came with 3 different types of dips as well. Got a good flavor to it too. 🍤
The cuttlefish could have been cooked a little more and the pieces of fish could've been a little smaller and seasoned before frying to get that perfect taste! The dips on the other hand, were to die for! So good. 😍
2. Chipotle Chicken Flatbread Pizza 
This chicken flatbread pizza (large) had 8 slices to it. Not the regular round pizza you see everywhere else. They had their own way of making it and oh my it definitely didn't disappoint. Not spicy, not sweet, just the perfect balance of both. The amount of chicken on the pizza was very generous. And the cheese, just too good!
But, If you're ordering just this dish for 2 people, it might not be enough as the pizza is really thin and the slices aren't that big. 🍕
Tip – Eat it while it's still Hot 🤗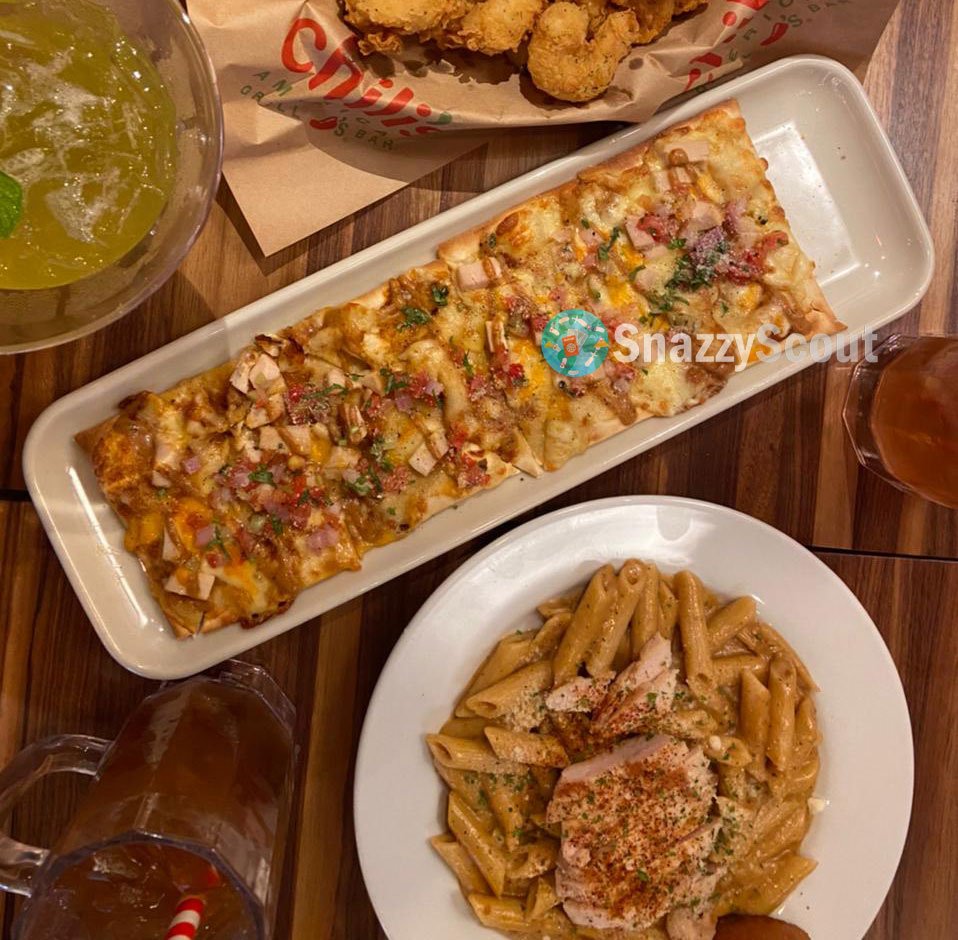 3.

Cajun Chicken Pasta
This creamy goodness was more than enough for one person. It was a proper full meal.
We chose the chicken breast topping because that's what was available on that day. And we did not regret it. A properly seasoned, cooked and a very generous amount of chicken was what we were given! Oh and a little slice of Toasted bread to make it even better.
It was creamy, cheesy and yummy. There could've been a little more salt in the pasta to call it The perfect meal.
Tip – Mix the Pasta from the bottom before starting to eat it so all the cream gets combined well. 🤩
4.

The Beverages
We tried the Evolution – It is a non alcoholic drink. A passion, pineapple and Mint Margarita. It was very refreshing and sweet . The mint syrup was a tad bit too much but was drinkable. It surely was worth the price though. 😉
Strawberry Lemonade -The name says it all but this is a MUST TRY .Totally worth the price, refreshing, sweet and sour! So much so, that we got another one after gulping down the first one
Strawberry Moji-tea 🍸- Strawberry iced tea mixed with a few mint leaves to give the mojito touch. It was definitely refreshing but the tea wasn't as good as it sounds. It could've been better if there was a little something extra on it.
Oreo Shake – On a scale of 1-10 , 10 being the highest on how good this was, we'd rate it a whopping 10! Perfect amount of sweet. Milky and amazing. Hands down the best Oreo shake in town. The quantity was a little less compared to all the other drinks we got but still very worth the price! Satisfaction level was 100 with this . 😋
We loved the Tex-Mex Cuisine here!🥰
Have you tried out the food here ? What is your favorite?
Location of Chilli's Grill & Bar