We were really thrilled to hear from a friend that this restaurant located in the vicinity that we stayed was open till 3 am. And we immediately decided that we should give it a try. So we went there at around 1 am after we went to the Aquaventure water park at Atlantis. It was a tiring day after all the adrenaline pumping rides that we had to head back to our hotel and take a nap. We didn't eat all day and we just went to Aroos Damascus for our first wholesome meal.
It was a very happening place. Was crowded even at 1 am. It had indoor and outdoor seating. We opted for the outdoors. The fairy lights and all the hustle and bustle just made us forget about the time.
They had an extensive menu and it was really hard to choose from. Luckily the waiter was helpful and took time explaining to us about the dishes. We were offered salads and pickled veggies initially. There was a lot of lettuce, spinach, cabbage, tomatoes and many more cut vegetables. They also gave us a platter of pickled vegetables. We were very intrigued to try it. The capsicums, olives, beetroot and gherkins just tasted so good. This was the first time we ever tried pickled beetroot and we absolutely love loved it.
We tried the Steak Spicy. A thin chunk of beef that was cooked till it was soft and tender. The sauce coated on the steak was the perfect consistency not too thin or too thick. It had amazing flavours. The mashed potatoes that came alongside the steak was creamy and really went well with the steak. The steak was cooked to perfection and we loved it.
We also tried the grilled chicken shawarma. The shawarma came with a portion of fries and some cut veggies. The shawarma was cut into small pieces which made it easy for us to eat. The bread was soft and there was an ample amount of grilled chicken in it. The chicken would have been perfect if it had a bit more salt. But that was balanced off when eating it with the pickled vegetables.
To wash down all that, we had some tea. It was hot and just the perfect beverage to have at the end of an amazing dinner.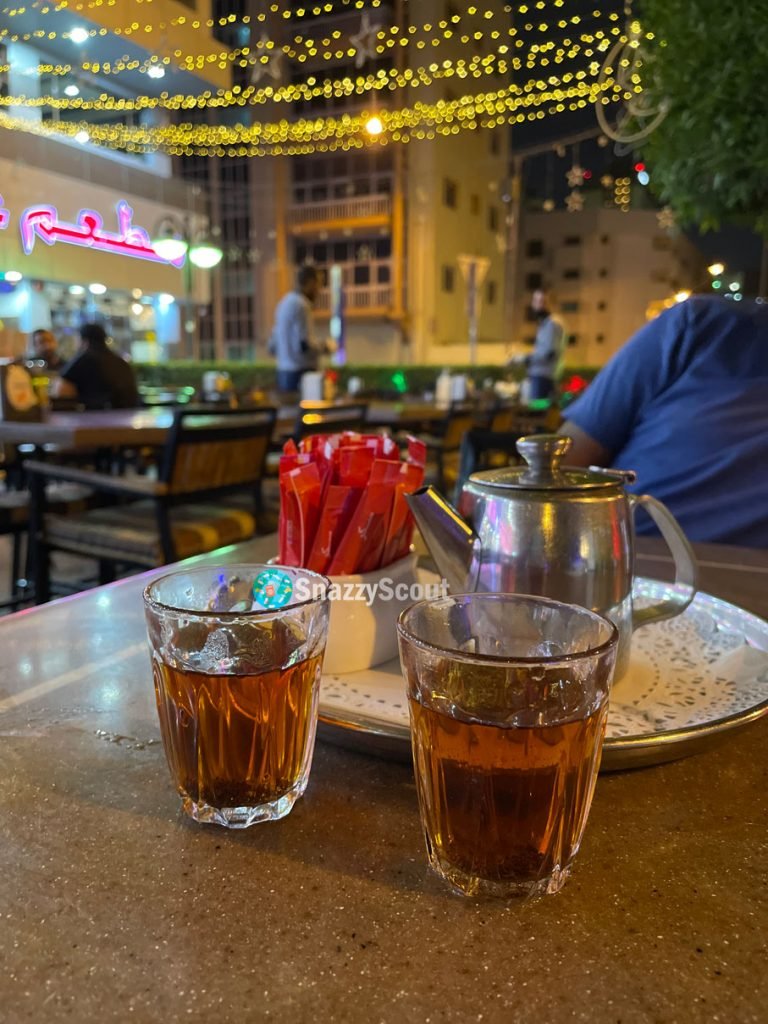 We loved the whole vibe at Aroos Damascus. Enjoyed the food and the ambience there! We would definitely recommend to everyone!