A trip to Dubai feels incomplete without going on the desert safari. When we were planning our trip to Dubai we had this on top of our list. We wanted to have the best tour guides to take us on the safari. There are plenty of travel guides and tour operators who plan desert safari trips for tourists. After an intense research and suggestions from friends we booked our trip through viator.com. There are so many packages which include different activities. We chose an all inclusive package which costed us $65 per head. The link of the package we opted for: Dubai Desert 4×4 Dune Bashing, Self-Ride 30min ATV Quad, Camel Ride,Shows,Dinner 2022 (viator.com)
The trip began with a hotel pickup, the driver we got was fluent in English which made the rest of the trip really smooth. He was also showing us some important buildings and landmarks on the way. It was a half an hour ride from Al-Rigga to the Bedouin camp which was on the outskirts of Dubai. Once we reached we had the adrenaline pumping dune bashing ride. The driver was a pro. He made sure we had maximum fun in the ride by playing some Arabic songs throughout the ride which made the dune bashing experience an unforgettable one.(Children below 2 years, Pregnant women and people with heart conditions cannot take part in this ride)
The sand,wind and the whole environment there in the desert is such a vibe. The sand was so soft and our feet were sinking in. There was a chilly breeze throughout the evening. Watching the sunset amongst the sand dunes was indeed a special experience.
Once we reached the camp, we tried sand boarding. All you do is stand atop a sand dune and board just like on snow. You don't have to have practice or any sort of experience to try this. It's completely safe for everyone. It was fun and a very new experience for us and we loved it.
The next up on our agenda was Camel ride. This was the first time for us and we absolutely loved it. Was scared at first but made it through.
Then, we had our Quad Bike ride, we were given a half an hour self ride. It was amazing to ride the quad bike on the sand dunes. We had a guide riding along with us on his bike and guiding us throughout which made us feel safe. This was also a wonderful ride and we enjoyed it a lot.
Up next was henna,dinner and entertainment shows. Ladies will be given the opportunity to adorn their hands with henna. The henna included in the package is a very small design, but you can always have more when you pay extra. You can apply full hand henna, add some glitter to it which all comes at an extra cost.
From 6.30 pm onwards dinner was be served. We were given starters, salads, mains, grilled and bbq meat, dessert and non alcoholic beverages. (alcoholic beverages were not included in the package and were charged separately) You can also eat at the buffet or you can choose to sit in a separate elevated place where the food will be served to you at your table.(extra 100 Dirhams)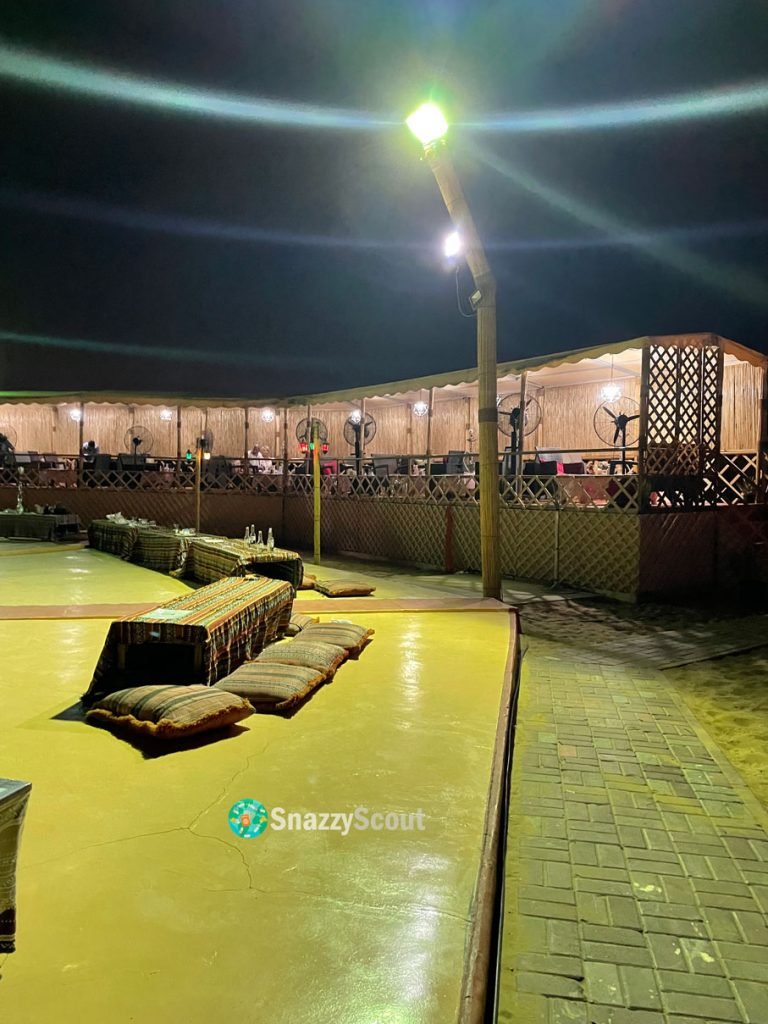 The food was amazing and all the dishes were served hot. It was a wholesome meal and we got to try some unique Emirati dishes. We had a wrap, samboosa and some other spicy fried doughnuts kind of thing for starters. All of it had a new flavour and tasted good.
Then they served the hummus and salad platter. Trust me, everything tasted so fresh and yum. We enjoyed the pasta salad a lot.
For mains, we had Arabic rice, Spaghetti, Chickpeas, lentils and spicy vegetable stir fry. All the food tasted really good but we were really full and finding it hard to eat. Just when we thought that we were almost done with our meals we were served a grill with various types of meat.
It consisted of grilled sausages,drumsticks and kebabs.The lamb kebab that was on the grill was to die for. It was so good. Then for dessert we were given some fruits and luqaimat.(a sweet spherical doughnut)
While indulging in all the yummy meals we were also entertained by some fine artists. First we had the Belly dance show, then we had the Tanoura dance – a unique Egyptian dance where they keep spinning off and finally had the fire show. All these were remarkable and we had immense fun watching them.
Finally , we had Stargazing. This was a remarkable experience. They turned off all the lights at the camp and we were just under the moon light in the middle of the desert gazing at the stars. This was indeed a romantic moment for many present there. It was truly the cherry on top for the whole trip.
At the end of the trip we were dropped at our hotel. We had a really good time and an amazing experience. Do let us know who helped you plan your trip and share about your experiences.